Home

/

Capulet - Our Story
Our Story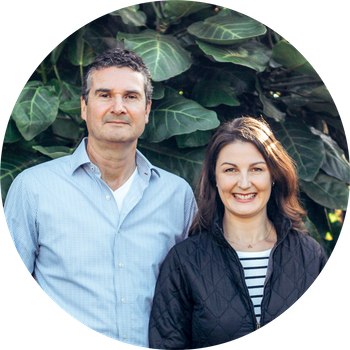 We all have a story to tell.
You. Me… All of us.
It's the story of where we grew up, were we went to school, what we achieved and who we met along the way.
The family, the jobs… the parties, holidays, and friends, and of course the kids. The wins, the set-backs and the false starts. The triumphs and the failures.
The laughs, the tears… the journey.
And our homes become a reflection of that journey. I know ours is…
Not everything matches, and we don't stick to any particular trending décor theme.
Sometimes the house is tidy, and sometimes it isn't. We try, but we don't live in a magazine after all!
Above all else, it's a place where our family is comfortable. And it's a place we've always liked to welcome others into, by creating a happy and relaxed atmosphere. A place we hope they'd like to return.
Hi, we're Susan and Lindsay Allan.
Our interest in home décor began while living in Shanghai, China.
One of our favourite pass times was meandering through the streets of the old city, perusing the vast displays of trinkets, souvenirs and antiques.
We looked forward to trying out our newly learned Chinese phrases, to see if we could understand, and be understood. Haggling and joking with the street vendors, we had a good time, and found some remarkable treasures along the way. Ancient-style wine vessels, rice carriers, wooden dragons… you name it, we probably bought it.
We fondly remember the remarkable oil paintings we stumbled across on an after-lunch Sunday stroll. And the 100-year-old Tianjin sideboard we bought from a dusty, dimly lit, furniture shop. It brings back memories of the expressive and ubiquitous melodies of the stringed Erhu instrument playing softly in the background. Mr Ding, our friendly go-to guy for Chinese furniture… and the familiar smell of wood stain, incence and green tea.
We've moved house at least 7 times since we bought the sideboard, but it still takes pride of place in our living room. Because it sparks fond memories.
Then our New York chapter helped us appreciate very different décor themes.
We developed a love for modern-traditional, which was very fitting in the area we lived. With the significant swings in season, keeping things seasonal became second-nature. And learning how friends and co-workers decorate their houses became a valuable asset. It helped shape our style.
Décor pieces that have stories attached make us happy… because they evoke emotion.
At Capulet, we'd love to create memorable experiences for you. We greatly appreciate our retailers who stock our products. We do our best to be easy to work with, and we strive to offer products they are proud to sell.
We look for items that are popular, but not cliched. Different, but not too quirky. High-end, but not unattainable.
We hope you find pleasure in finding décor items that say a little something about you. Because we all have a story of home.
How will you tell yours?